Have a Good Trip: Adventures in Psychedelics (Netflix)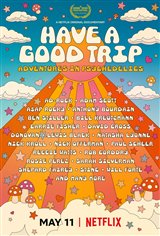 ---
Numerous celebrities tell personal tales about hallucinogenic trips they've been on. Sting reveals that even when he's had a trip that was bad, it was what he needed. Comedians Sarah Silverman and Nick Kroll remember their strange behavior while under the influence.
Animation is included to give the viewer an idea of what a psychedelic trip would be like, while live-action skits are also presented, such as one by young performers portraying the late Anthony Bourdain's multi-drug blowout. Carrie Fisher remembers an encounter with an acorn she claims was misbehaving in Central Park, while Lewis Black says he was mortified when he couldn't remember his name on acid.
Rosie Perez reveals she had a bad first trip when she was dosed without her consent, while Ben Stiller also recalls his first trip, which was unpleasant. However, these are played for laughs — the documentary doesn't delve into the longterm affects of these drugs, although worst-case scenarios are presented, along with excerpts from vintage classroom films telling kids about the dangers of drugs.
Have a Good Trip: Adventures in Psychedelics is dedicated to Fisher and Bourdain, who both passed away since filming their appearances.
| | |
| --- | --- |
| Director: | Donick Cary |
| Studio: | Netflix |
| Producer(s): | Jeremy Reitz, Mike Rosenstein, Jim Ziegler |
| Cast: | Adam Scott, Ben Stiller, Carrie Fisher, David Cross, Natasha Lyonne, Nick Kroll, Nick Offerman, Rob Corddry, Rosie Perez, Sarah Silverman, Sting , Will Forte |
| Official Site: | netflix.com/title/80231917 |
---