Heartburn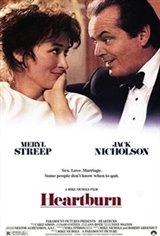 ---
Though she always played coy about the fact in interviews, Nora Ephron's novel Heartburn is a thinly disguised a clef rehash of her marriage to Washington Post reporter Carl Bernstein. Meryl Streep plays Rachel, an influential food critic who marries charismatic columnist Mark (Jack Nicholson) after a whirlwind courtship.
Warned that Mark is constitutionally incapable of settling down with any one woman, Rachel gives up her own job to make certain that her marriage works. When Rachel announces that she's pregnant, Mark virtually jumps out of his skin with delight.
But as the news sinks in, Mark chafes at the impending responsibilities of fatherhood, and the philandering begins-- as if it had ever really stopped! Our favorite scene: Rachel and her friends being robbed at her therapy group. That's Meryl Streep's real-life daughter playing Rachel's offspring.