Hevn (Revenge)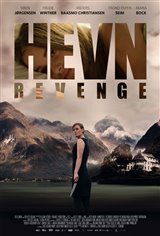 ---
When Rebekka's (Siren Jørgensen) younger sister commits suicide after spending years in a psychiatric institution, Rebekka decides to get revenge on the man who ruined her sister's life.
She travels to a beautiful vacation spot in the mountains of Norway. Although she doesn't have a reservation, when she tells the innkeepers she has always wanted to write about the inn, they accommodate her.
It soon becomes clear she's up to something. While she's interviewing Morten Holand (Frode Winther) for the supposed article, she alters entries in his cell phone when he walks away for a moment. It turns out Morten is the man who somehow destroyed her sister, and Rebekka wants revenge. Initially planning to kill him, she decides instead to take away everything that matters to him. She tries to make him a social outcast and tries to turn his family and friends against him. However, she finds out that her actions may have serious consequences not just for Morten, but for those around him.
In Norwegian with English subtitles.
Based on Ingvar Ambjørnsen's bestselling crime novel Dukken i Taket.
| | |
| --- | --- |
| Director: | Kjersti G. Steinsbø |
| Producer(s): | Kristine M.I. Knudsen |
| Cast: | Siren Jørgensen, Frode Winther, Anders Baasmo Christiansen, Trond Espen Seim, Maria Bock |
| Writer(s): | Kjersti G. Steinsbø |
---