Hugh Hefner: Playboy, Activist and Rebel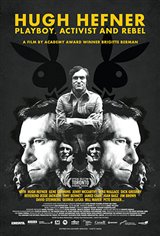 | 30 votes and 7 Reviews
Write a Review
| | |
| --- | --- |
| In theatres: | |
| On DVD: | December 7, 2010 |
| Running time: | 2h 4m |
---
Undoubtedly one of the most influential media figures of the 20th century, Hugh Hefner is most famous as the pipe-smoking mogul who promoted a sexual lifestyle while creating a publishing empire.
Equally as impressive as Playboy magazine's ultimate success is the fact that it came from very humble beginnings. Hefner borrowed money and on a shoestring began publishing his magazine—one committed to sexy photos of women and strong, trail-blazing writing. Hefner had the smarts to purchase a nude spread of Marilyn Monroe, whose images would grace the magazine's first edition. There were many more landmarks to come for the publication, which embodied the then-nascent sexual liberation movement carried along by the baby boomer generation.
The tales of women, cocktails and the mansion are famous, and will be familiar to most, but what's revealing here is Hefner's place in the African American civil rights movement. When some Playboy clubs in the southern United States would not let black patrons in, Hefner used his own money to buy the franchises back from their owners, ensuring that institutions bearing the Playboy name would be racially integrated. The main criticism of the Playboy brand and accompanying philosophy is that it has been degrading and damaging to women, but Hefner's support for feminist causes is shown—for example, he sent legal teams to fight for abortion rights cases, which paved the road for groundbreaking Supreme Court decisions such as Roe v. Wade.
---