In Good Company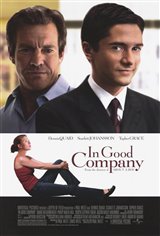 | 2199 votes and 67 Reviews
Write a Review
Release Date:
DVD: May 10, 2005
Netflix: August 7, 2019
1h 46m | Comedy
---
Dan Foreman (
Dennis Quaid
) is headed for a shakeup. He is demoted from head of ad sales for a major magazine when the company he works for is acquired in a corporate takeover. His new boss, Tom (
Topher Grace
) is half his age -- a business school prodigy who preaches corporate Synergy. While Dan develops clients through handshake deals and relationships, Tom cross-promotes the magazine with the cell phone division and "Krispity Krunch," an indeterminate snack food under the same corporate umbrella.
Both men are going through turmoil at home. Dan has two daughters -- Alex, age 18, and Jana, age 16 -- and is shocked when his wife tells him she's pregnant with a new child. Between college tuition, the mortgage and a new baby, Dan can't afford to lose his job in the wave of corporate layoffs. Tom, in the meanwhile, is dumped by his wife of seven months just as he gets his promotion. Dan and Tom's uneasy friendship is thrown into jeopardy when Tom falls for, and begins an affair with, Dan's daughter Alex (Scarlett Johansson).
---