In the Blood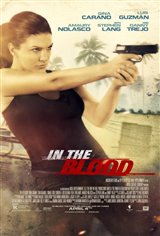 2 votes and 0 Reviews
Release Date:
DVD: June 3, 2014
1h 30m | Action/Adventure, Thriller
---
Newlyweds Ava (Gina Carano) and her husband Derek (Cam Gigandet) are celebrating their honeymoon in the Caribbean. They meet one of the locals, Manny, who takes them out for a night on the town. At a nightclub they have a run-in with a local kingpin Big Biz (Danny Trejo). The following day, newlyweds go ziplining and Derek has an accident. He is taken to the hospital, but when Ava arrives there he is nowhere to be found.
Getting very little help from the local police, she starts looking for him herself, only to stumble into a conspiracy that's bigger than Ava could have ever expected. Now, she must stay alive to seek revenge against the men she believes to have abducted her husband and expose a sinister plot.
---