Jim Gaffigan: The Pale Tourist (Prime Video)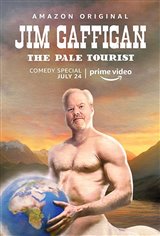 ---
Jim Gaffigan boldly goes where no stand-up comedian has gone before: everywhere. Two hour-long specials have been filmed so far as part of Gaffigan's The Pale Tourist worldwide tour, in which he travels the world — meeting people in each country, eating the food, and learning a bit about the history.
He then transforms those experiences into a stand-up set of all-new material and performs it for locals and expatriates, before heading on to another destination and doing it all over again. So far two episodes are available in which Gaffigan travels to and performs in Canada and Spain, dishing up humor about local oddities, food and weather.
Canadian Connection : The Canadian episode of this series was recorded at Centre in the Square in Kitchener, Ontario.
---