Landline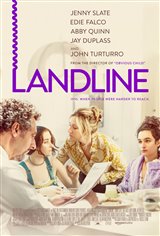 | 2 votes and 1 Reviews
Write a Review
Release Date:
August 4, 2017 - Toronto
August 11, 2017 - Calgary,Edmonton,Halifax,Ottawa,Vancouver,Victoria,Winnipeg
1h 37m | Comedy
---
Landlinetells the story of two sisters, Ali (Abby Quinn) and Dana (Jenny Slate), trying to navigate their lives in 1990s Manhattan. Dana is dealing with the decisions that have set the course of her future, including a new engagement. Younger sister Abby is in her own world and attempting to work out being a teenager and the issues that come along with it.
Leading different lives, the two begin to bond once they find out that their father (John Turturro) is having an affair. They must try to deal with the news while being careful not to involve their mother (Edie Falco).
---