Le jour des corneilles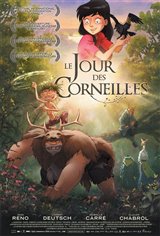 0 votes and 0 Reviews
Release Date:
October 19, 2012 - Limited
DVD: February 26, 2013
1h 35m | Animation, Family
---
Since his birth, Courge has lived the life of a recluse in a large forest with his authoritarian and angry father, who uses fear to keep him inside the perimeter beyond which, he says, lies certain death. When the father has a serious accident, the son defies the ban and journeys to the nearest village. He soon finds the kindly chief physician of the hospital, who introduces the wild child to his daughter Manon. Courge takes a liking to life in society and discovers a new feeling: love.