LOL: Last One Laughing Canada (Prime Video)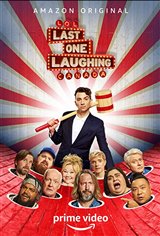 ---
Jay Baruchel hosts the Canadian version of the international hit comedy series LOL: Last One Laughing. The six-episode competition series pits 10 of the best Canadian comedians against each other in a showdown, where they're not allowed to laugh at anything the other comedians say or do, or even laugh at their own jokes. One by one they're eliminated and join Jay to watch the rest of the competition. Special guests are brought in to see if they can crack up the comedians.
The comedian who doesn't break a smile and outlasts their competitors wins the grand prize of $100,000 for their charity of choice. Comedians participating are: Colin Mochrie, Tom Green, Andrew Phung, Dave Foley, Debra DiGiovanni, Caroline Rhea, Jonathan Lajoie, Brandon Ash Mohammed, K. Trevor Wilson and Mae Martin.
Canadian Connection : Filmed in Canada. Host Jay Baruchel and all the comedians are Canadian.
| | |
| --- | --- |
| Studio: | Amazon Studios |
| Cast: | Jay Baruchel, Colin Mochrie, Tom Green, Andrew Phung, Caroline Rhea, Dave Foley, Mae Martin, Debra DiGiovanni, Brandon Ash Mohammed, K. Trevor Wilson, Jonathan Lajoie |
---