Lone Star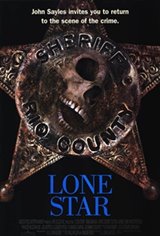 ---
Reminiscent of a fine novel in depth and complexity, writer-director John Sayles' acclaimed drama uses the investigation of a 25-year-old murder as the framework for a detailed exploration of life in a Texas border town. The nominal center of the film is Sheriff Sam Deeds (the superb, subtle Chris Cooper), the chief law officer of the town of Frontera.
The low-key Sam is also the son of the late Buddy Deeds (played in flashbacks by Matthew McConaughey), who also served as town sheriff and still maintains a legendary status for ousting the vicious, corrupt Charlie Wade (a memorably vicious Kris Kristofferson).
The discovery of Wade's decades-old skeleton, however, calls this legend into question, and forces Sam to begin an investigation.
During this search for the truth, Sam must come to terms with his own troubled emotions about his father and his still-lingering romantic feelings for Pilar (Elizabeth Peña), a Hispanic woman that Buddy had prevented him from seeing as a young man.
Lone Star's scope encompasses not only this story but the whole town, addressing Pilar's difficulties as a schoolteacher, the conflict between incoming immigrants and border patrol officers, and the troubles faced by the African-American commander of the local military base.
Sayles expertly moves between past and present, weaving his stories together to illustrate, as in his earlier City of Hope (1991), how the seemingly disparate parts of a community are in fact intimately interconnected.
Raising issues of race, politics, and identity, Lone Star nevertheless focuses most of its attention on its complex, believable characters, well-performed by an excellent ensemble cast. One of the most financially successful of Sayles' low-key movies, Lone Star received glowing notices and an Academy Award nomination for Best Original Screenplay.