Lost Girls (Netflix)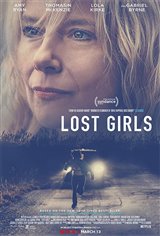 0 votes and 0 Reviews
| | |
| --- | --- |
| Netflix: | March 13, 2020 |
| Running time: | 1h 35m |
---
When Mari Gilbert (Amy Ryan) discovers her daughter Shannan has disappeared following a 911 call, she takes her two younger daughters, Sherre (Thomasin McKenzie) and Sarra (Oona Laurence), to the gated Long Island community where Shannan was last seen to conduct her own investigation when the police don't show much interest in the case because Shannan was a sex worker.
Mari discovers Shannan was driven to the gated community to visit a client, but ran screaming out of the house while calling 911. Her driver insists she wouldn't come to the car even though he called after her. Police detective Richard Dormer (Gabriel Byrne) begins to look into Shannan's disappearance after it becomes clear Mari won't let it drop.
The search for Shannon brings attention to over a dozen murdered girls and women, whose bodies are discovered during a police search for Mari's daughter.
Based on the book Lost Girls: An Unsolved American Mystery by investigative reporter Robert Kolker.
---