Love After Love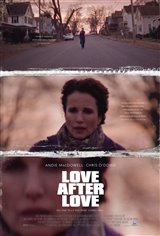 ---
Suzanne (
Andie MacDowell
) has to cope with the inevitability of losing her terminally ill husband Glenn (
Gareth Williams
), as well as help her two adult sons, Nick (
Chris O'Dowd
) and Chris (
James Adomian
) deal with the loss.
Her eldest son Nick and his wife Rebecca (Juliet Rylance), both book editors at the same publishing firm, are having troubles of their own, while Chris, who has not yet figured out what he wants to do with his life, sinks into depression following his father's death. 
Suzanne tries to move on with her life, but Nick grows angry about his mother wanting to have a new partner, seeing it as a betrayal to his father's memory.
---