Madam Butterfly 3D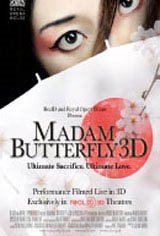 ---
Coming soon to a cinema near you, one of the world's most popular operas, Puccini's MADAM BUTTERFLY—for the first time ever in spectacular 3D!
A co-production from RealD and London's Royal Opera House, MADAM BUTTERFLY 3D gives viewers the best seat in the house, taking them on a magical journey into the heart of the production and immersing them into this powerful story of love, sacrifice and betrayal.
MADAM BUTTERFLY 3D is a dazzling film, filled with some of the most beautiful music ever written and performed by a world-class cast, which includes soprano Liping Zhang as Cio-Cio-San (the Butterfly of the title) and James Valenti as Pinkerton, Butterfly's faithless lover.
| | |
| --- | --- |
| Director: | Julian Napier |
| Studio: | RealD and Royal Opera House |
| Producer(s): | Phil Streather |
| Cast: | Liping Zhang, James Valenti, Anthony Michaels-Moore, Helene Schneiderman, Robin Leggate, Jeremy White, ZhengZhong Zhou, Daniel Grice, Rachael Lloyd |
| Writer(s): | Giacomo Puccini |
| Official Site: | www.madambutterfly3d.com |
---