Manhunt: Unabomber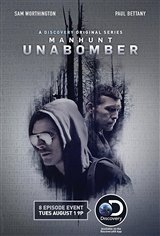 ---
In this eight-part mini-series, a new and talented FBI profiler, Jim "Fitz" Fitzgerald (
Sam Worthington
) is asked to help with the Unabomber case, which has been dragging on for years. The Unabomber has been sporadically mailing bombs to various places, including airlines, universities and the California Forestry Association. 
When Fitz comes on board, he's appalled to find that the profiles provided by previous FBI agents are useless and counterproductive. Despite warnings from his superiors, he starts from scratch, studying the linguistics of the Unabomber's letters and comes up with a much different profile that even narrows down the man's age and intelligence. However, it's a struggle as the higher ups downplay his progress and stick to their old ways.
Based on true events.
---