Memories of Murder (Remastered)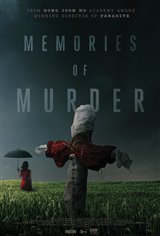 | 2 votes and 1 Reviews
Write a Review
Rotten Tomatoes® Score


95%

93%
| | |
| --- | --- |
| In theatres: | |
| Digital/VOD: | October 27, 2020 |
| DVD/Blu-ray: | April 20, 2021 |
| Running time: | 2h 12m |
---
This 2003 murder mystery from Oscar-winning director Bong Joon Ho is set in a small Korean province. When multiple young women are found raped and murdered, Inspector Park (Kang-ho Song) and Inspector Cho (Roe-ha Kim) struggle to find the unknown culprit. Inspector Tae-Yoon Seo (Sang-kyung Kim), recently transferred from Seoul, joins them, and the three of them stumble their way through the murder investigations.
They find some commonalities between the murders. All the women were bound, all wore red and all were killed in the rain. Apart from that, there are no clues. The first two detectives come across a mentally disabled man and decide to pin the crimes on him despite a lack of evidence, just to get the public to calm down. Seo Tae-Yoon doesn't agree with their methods. He prefers cold hard facts rather than a forced confession, and he tries to solve the case with the pieces of the puzzle that are available.
Based on the true story of the Hwaseong serial killings that took place between 1986 and 1991.
| | |
| --- | --- |
| Director: | Bong Joon Ho |
| Studio: | Elevation Pictures |
| Producer(s): | Jong-yun No, Moo-Ryoung Kim, Seoung-Jae Cha |
| Cast: | Song Kang Ho, Sang-kyung Kim, Roe-ha Kim, Jae-ho Song, Hee-Bong Byun |
| Writer(s): | Bong Joon-ho, Sung Shim |
---