Monster-in-Law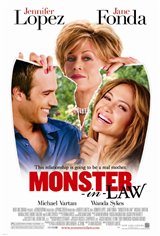 | 2566 votes and 93 Reviews
Write a Review
Release Date:
DVD: August 30, 2005
1h 35m | Comedy
---
Unlucky in love, beautiful Charlotte "Charlie" Cantilini (
Jennifer Lopez
) has finally met the man of her dreams, Dr. Kevin Fields (
Michael Vartan
). There's just one problem - his mother! Overbearing and controlling, not to mention volatile, Viola Fields (
Jane Fonda
) has recently been canned from her job as a star news anchor. Fearing she will lose her son's affections as she has her career, Viola decides to break up the happy couple by becoming the world's worst mother-in-law.
While Viola's long-time assistant Ruby (Wanda Sykes) does her best to help Viola execute her crazy schemes, Charlie decides to fight back and the gloves come off as the women battle it out to see just who is the alpha-female.
---