Mother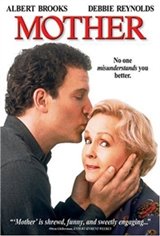 ---
A man tries to figure out why his best friend isn't his mother in this comedy written and directed by Albert Brooks. John Henderson (Brooks) is a neurotic, self-obsessed writer whose relationships with women have been almost uniformly disastrous.
Middle-aged and single, John decides that he must come to terms with his problems with women, and he decides to start with the first significant female relationship of his life -- his mother, Beatrice (Debbie Reynolds). John arrives at Beatrice's house and announces that he's moving back into his old room until he can resolve his issues with her.
Beatrice politely plays along, but she is more puzzled by John's behavior than anything else. John and Beatrice soon find that they spend less time trying to resolve their differences than arguing if salads can be frozen or if you can really tell the difference between premium ice cream and the supermarket's store brand.
Rob Morrow plays John's brother, and Lisa Kudrow plays one of John's less compatible blind dates.