Moulin Rouge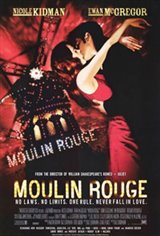 | 2654 votes and 112 Reviews
Write a Review
Release Date:
2h 6m | Drama, Musical, Romance
---
In 1899 France, a young writer named Christian (McGregor) defies his bourgeois father, leaves his family home and moves to the seedy, bohemian underworld of Montmartre, Paris. He is taken in by Toulouse-Lautrec (Leguizamo) and his entourage, and is drafted to write a nightclub spectacular. Through his relationship with Toulouse, Christian meets Satine (Kidman), the most beautiful courtesan in Paris and star of the Moulin Rouge nightclub. He and Satine enter into a passionate but doomed love affair.

This musical features original songs by David Bowie, Craig Armstrong, Marius De Vries and Steve Hitchcock.


---