Move Over, Darling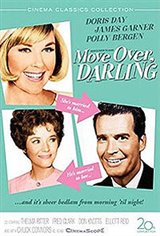 ---
A man makes the highly unexpected discovery that he has two wives in this romantic comedy. Widower Nick Arden (James Garner) has just set off on his honeymoon with his new wife Bianca (Polly Bergen) when his mother Grace (Thelma Ritter) receives a very unexpected guest -- Nick's late wife Ellen (Doris Day).
While Ellen was proclaimed legally dead five years after her plane disappeared in a flight over the Pacific Ocean, in truth her flight crash-landed on a desert island where she was stranded with Stephen Burkett (Chuck Connors) and only now has managed to return to civilization.
When Grace informs Ellen that Nick has just left town with his new wife, Ellen heads out to the resort where the newlyweds are staying, and comic confusion ensues.
Move Over, Darling began life as a project called Something's Got to Give, which was the film that Marilyn Monroe was working on at the time of her death; besides Monroe, the original cast included Dean Martin, Cyd Charisse, and Phil Silvers.