My Cousin Vinny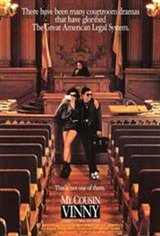 | 2 votes and 1 Reviews
Write a Review
Rotten Tomatoes® Score


87%

87%
| | |
| --- | --- |
| Running time: | 1h 59m |
---
When sweet Northern college kid Bill (Ralph Macchio) and his buddy Stan (Mitchell Whitfield) are picked up and thrown into the slammer in a hick Southern town, at first it looks like no big deal. Then they are informed that they are accused of murder.
Penniless and without a single friend in the area, Bill decides to call his goofy cousin Vinny (Joe Pesci), who has somehow recently become a lawyer. Full of family feeling and bravado, Vinny, who has never tried a criminal case in his short life as a lawyer, rides south to defend his trusting relative.
He's an expert motormouth and street-level logician from the wilder reaches of metropolitan New York, complete with a thick accent and the attitude to go with it. Otherwise, he's much less well qualified than your average public defender.
When he arrives on the scene with his equally brassy girlfriend Lisa (Marisa Tomei), Bill is fairly sure he's going to be sentenced to death. His buddy Stan is even less confident of his legal representative, if that's possible, and the first thing Vinny has to do is to regain the consent of his clients to represent them.
The local judge doesn't seem any too sympathetic to Vinny's verbal shenanigans either, and even the most optimistic supporter of the boys would begin to have doubts at this point -- and Vinny's no exception.
With the insistent moral encouragement of his girlfriend, Vinny somehow accomplishes the impossible and wins grudging (if very irritated) respect from all concerned, for once studying as if his life depended on it.
| | |
| --- | --- |
| Director: | Jonathan Lynn |
| Producer(s): | Dale Launer, Paul Schiff |
| Cast: | Austin Pendleton, Marisa Tomei, Joe Pesci, Maury Chaykin, Bruce McGill, Mitchell Whitfield, Lane Smith, Ralph Macchio, Fred Gwynne, Paulene Myers |
| Writer(s): | Dale Launer |