Narcos (Netflix)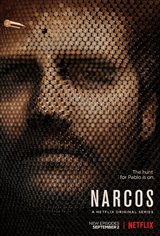 ---
Season One: In 1970s Colombia, established black marketeer Pablo Escobar (Wagner Moura) goes into business with Mateo "Cockroach" Moreno, a Chilean chemist. The two begin manufacturing cocaine. The new drug is highly profitable and they soon begin transporting it to the States, where it becomes popular with the rich and famous. The American Drug Enforcement Agency (DEA) gets involved as more and more American dollars make their way to Colombia and drug-related violence in the States escalates.

Season Two: Escobar has become very wealthy and powerful. However, as the DEA and CIA get involved, he has to hide from the government. When two top members of Escobar's cartel are caught and rat on him, he has to go on the run. 

Season Three: With Pablo Escobar dead, the DEA concentrates their fight against the Cali Cartel.
---