Nine to Five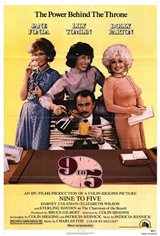 0 votes and 0 Reviews
| | |
| --- | --- |
| In theatres: | |
| On DVD: | April 17, 2001 |
| Running time: | 1h 50m |
---
Judy Bernly (Jane Fonda), a housewife whose husband left her for his secretary, begins her own secretarial career at a huge corporation. Violet Newstead (Lily Tomlin), a feisty, veteran office manager, instructs her on the perils and procedures of office life—and of working for Franklin Hart Jr. (Dabney Coleman), their chauvinistic, sleazy boss, and his right-hand woman, the crisp, nosy Roz (Elizabeth Wilson).
Meanwhile, Hart's endless attempts to seduce his happily married secretary, Doralee Rhodes (Dolly Parton), lead the entire office to think she's a floozy. When Hart unfairly passes Violet over for a promotion, she drowns her sorrows at a local bar with Judy and Doralee, who regales the others with tales of Hart's epic advances.
Later, at Doralee's house, the women concoct hilarious revenge fantasies about killing their boss. When a mix-up leads the women to think they accidentally poisoned Hart's coffee, they hatch a scheme to protect themselves by stealing Hart's body from the morgue. When he turns up alive, never having drunk the coffee, they kidnap him to prevent him from blackmailing them or calling the police. The women then use the occasion of their boss' absence to effect some changes around the office.
| | |
| --- | --- |
| Director: | Colin Higgins |
| Studio: | 20th Century Fox |
| Producer(s): | Bruce Gilbert |
| Cast: | Jane Fonda, Dolly Parton, Lily Tomlin, Dabney Coleman, Sterling Hayden, Henry Jones, Elizabeth Wilson, Lawrence Pressman |
| Writer(s): | Colin Higgins, Patricia Resnick |