Nobel Son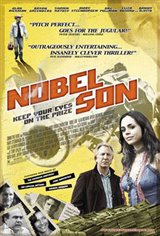 5 votes and 0 Reviews
Release Date:
December 5, 2008 - Limited
DVD: March 10, 2009
1h 50m | Comedy, Drama, Thriller
---
Nobel Son is a venomous tale of familial dysfunction, lust, betrayal and ultimately revenge. Barkley Michaelson (Bryan Greenberg) is struggling to finish his Ph.D. thesis when his father, the learned Eli Michaelson (Alan Rickman), wins the Nobel Prize for Chemistry. But Eli's past indiscretions begin to collide with the present. When Barkley is kidnapped on the eve of his father accepting the prize, Eli refuses to pay the ransom. So starts a game of intrigue and deception that proves that payback's a bitch.
---