Operation Varsity Blues: The College Admissions Scandal (Netflix)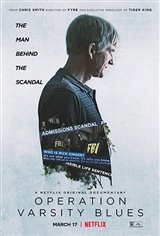 | 4 votes and 2 Reviews
Write a Review
| | |
| --- | --- |
| Netflix: | March 17, 2021 |
| Running time: | 1h 39m |
---
Reenactments and firsthand accounts combine to tell the story of the mastermind behind a scam to get thousands of children from wealthy families into the top American universities.
Rick Singer (Matthew Modine) began as a college recruiter, but after getting to know the ins and outs, he comes up with what's known as a "side door entry" into these top universities.
Knowing that even parents who donate generous amounts of money to these schools (known as "back door entry") don't have a guarantee that their children will be accepted, he begins to bribe college coaches in order to get under-achieving, non-athletic students to pose as top athletes. What's more, he can guarantee they will be accepted—at a cost that's far less than the millions some parents pay to get their kids in the back door.
His clients are the wealthy and sometimes even the famous—such as Lori Loughlin, Mossimo Giannulli and Felicity Huffman. We learn that Huffman's daughter, who is academically inclined, probably didn't need her help. But Giannulli and Loughlin's daughters, who are not academics or athletes, who didn't want or even need to attend a prestigious school, get into USC as members of the crew team. When a high school counselor begins to ask questions as to how the girls were accepted, Giannulli made the mistake of angrily confronting him, which raised red flags.
We also see the damage that Singer's illegal dealings cause to students who have worked hard for years taking AP courses and doing impressive extracurricular activities in the hopes of getting into these same schools, only to be rejected. With Singer getting over 700 mostly undeserving students illegally into Ivy League schools each year, these deserving, hardworking students are devastated when they get passed over.
---