Orange is the New Black: Season 1 (Netflix)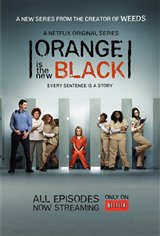 | 6 votes and 2 Reviews
Write a Review
| | |
| --- | --- |
| On DVD: | May 13, 2014 |
---
Piper Chapman's (Taylor Schilling) life is abruptly put on hold because of a former fling with an international drug smuggler, Alex Vause (Laura Prepon). In the height of their passionate romance, a young and lovestruck Piper transported drug money to her girlfriend, and now she's paying the price for her crime by serving a 15-month sentence in a women's federal prison.
Scared and alone, Piper has to leave everything behind temporarily, including her fiancé, writer Larry Bloom (Jason Biggs). Piper's first days in jail are tough: she meets women from different walks of life, including secret admirer Crazy Eyes, the intimidating Red and mysterious roommate Miss Claudette.
As the season evolves, Piper faces many challenges: the struggle to keep her relationship alive, the hidden agendas and secrets that are kept by inmates and officers alike, and ironically, her ex, who landed her in prison in the first place. Piper and Alex's jail stint forces them to interact, which leads to surprising results and proves to be the biggest test of all for Piper's engagement.
---