Outer Banks (Netflix)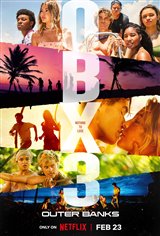 | 2 votes and 1 Reviews
Write a Review
Netflix:

February 23, 2023 - Season 3
July 30, 2021 - Season 2
April 15, 2020 - Season 1

Genre:
Action, Adventure, Drama
---
Teenager John B (Chase Stokes) has lived alone since his father went out on a boat and disappeared. His uncle is supposed to be his guardian, but he left to take a job in another state.
John B and his three best friends — JJ (Rudy Pankow), Pope (Jonathan Daviss) and Kiara (Madison Bailey) — call themselves "Pogues," because they're poor and live on the other side of town from the kids (called "Kooks") who have wealthy parents and can buy anything they want. However, they enjoy an enormous amount of freedom, considering the absence of an adult in John B's life, even if Child Services keeps knocking on his door and threatening to send him to a foster family.
Following a hurricane that causes a lot of damage, the teens go out and spot a boat underneath the water that went down in the storm. John B dives and recovers a hotel key, and when they go there, they find a stash of cash. It becomes clear that the owner of the boat was into something illegal that made him a lot of money. They decide to dive down to the boat again to see if there's anything of value down there, but their actions put them in danger.
| | |
| --- | --- |
| Director: | Valerie Weiss |
| Studio: | Netflix |
| Producer(s): | Sunny Hodge |
| Cast: | Chase Stokes, Madelyn Cline, Madison Bailey, Rudy Pankow, Jonathan Daviss, Charles Esten, Alexis Desiree Jones, Rob Mars |
| Writer(s): | Josh Pate, Jonas Pate, Shannon Burke, Keith Josef Adkins, Rachel Alter |
| Official Site: | netflix.com/outerbanks |
---