Paris, 13th District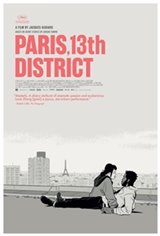 0 votes and 0 Reviews
| | |
| --- | --- |
| In theatres: | April 15, 2022 - Toronto, Vancouver, Montreal |
| Running time: | 1h 45m |
---
Émilie (Lucie Zhang), a call center employee, is looking for a roommate. She gets a call from someone named Camille (Makita Samba) and assuming this to be a woman, she agrees to have Camille come meet with her. Camille turns out to be a charming male literature professor, who convinces Emilie to take him on a trial. Soon after, they begin sleeping with each other. But just as quickly, he loses interest and finds another lover. When Emilie gets clingy, he moves out.
A few months later, while holding the fort in a friend's real estate agency, where he's taking the opportunity to write his doctoral thesis, Camille hires Nora (Noémie Merlant), a naive and insecure woman who, because of a humiliating misunderstanding with a sex worker on social media, dropped out of law school.
This film follows the lives of four adults — Emilie, Camille, Nora and Amber — who are friends and sometimes lovers.
| | |
| --- | --- |
| Director: | Jacques Audiard |
| Studio: | IFC Films |
| Producer(s): | Valérie Schermann |
| Cast: | Lucie Zhang, Makita Samba, Noémie Merlant, Jehnny Beth, Camille Léon-Fucien, Oceane Cairaty |
| Writer(s): | Jacques Audiard, Léa Mysius, Céline Sciamma |
---