Patch Town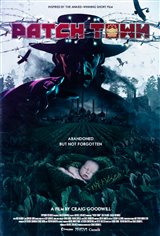 2 votes and 0 Reviews
Release Date:
June 5, 2015 - Montréal,Toronto
DVD: August 11, 2015
1h 25m | Action/Adventure, Comedy, Sci-Fi/Fantasy
---
Jon works in a Patch Town factory, where children, plucked from cabbages, are turned into dolls and sold to children around the world. He and his wife Mary raise their daughter Daisy secretly, because she was stolen from the factory. What children who have these dolls don't know is that, once they're through with them, the dolls revert back to being humans and go to work at the factory.
Haunted by recurring memories of the only "mother" he ever knew, Jon goes on a search for Bethany, the girl who abandoned him more than 20 years earlier. However, he soon finds himself pursued by the sinister Child Catcher and his henchman.