Penelope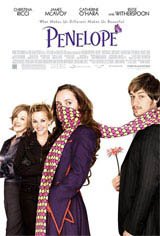 | 766 votes and 13 Reviews
Write a Review
Release Date:
DVD: July 15, 2008
Netflix: November 1, 2020
1h 41m | Fantasy, Comedy, Drama
---
Centuries ago, a witch proclaimed that the next girl born to the aristocratic Wilhern family would have the nose of a pig. Generations pass, until Jessica (
Catherine O'Hara
) and Franklin (
Richard E. Grant
) lose the sorcery lottery. Their otherwise lovely daughter, Penelope (
Christina Ricci
), has a porcine snout. After the London gutter press, led by ferocious cub reporter Lemon (
Peter Dinklage
), gets a misleadingly scary photo of the sweet young girl, her parents lock her away in a beautiful mansion.
The only way to lift the curse would be if Penelope marries a man of her own class. Unforunately, despite their enormous wealth, her parents cannot find a suitor. Bewildered gentlemen end up flinging themselves through windows the second they see her - until Max (James McAvoy) comes along. He is a blue-blood addicted to gambling, with a sad heart and a devil-may-care attitude. Though he has a dastardly ulterior motive for meeting Penelope, the two become unlikely friends.
---