Personal Shopper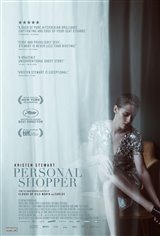 | 180 votes and 21 Reviews
Write a Review
Release Date:
March 24, 2017 - Montréal,Toronto,Vancouver
DVD: October 10, 2017
1h 45m | Drama, Thriller
---
Maureen (Kristen Stewart), an American woman in Paris, works as a personal shopper for a French celebrity named Kyra (Nora von Waldstatten). Both Maureen and her twin brother Lewis were born with a congenital heart defect, and before he died, they made a pact that if either of them passed away first, they would contact the surviving twin.
At night, Maureen goes to a lonely house outside the city where Lewis used to live, searching for signs that his spirit is there. One day as she's traveling to London on a shopping assignment for Kyra, Maureen receives an anonymous phone text that says, "I know you." When she finds Kyra murdered, the police are suspicious of Maureen and the young woman begins to unravel, becoming increasingly paranoid.
---