Prometheus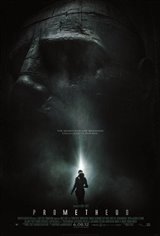 | 428 votes and 138 Reviews
Write a Review
Release Date:
DVD: October 9, 2012
2h 4m | Fantasy, Horror, Science-Fiction
---
A rare star map is discovered and scientists believe it holds the answer to the ultimate mystery—the origins of mankind on Earth. A team of explorers on board the spaceship Prometheus set off into the depths of the universe to uncover the truth. The mission is being led by ship captain Janek (Idris Elba) and overseen by Weyland Corporation (the same company responsible for the expedition in Alien) employee Meredith Vickers (Charlize Theron), whose suspicious actions lead others on board to question her real agenda.
Upon embarking on the mission, the crew discovers an advanced civilization of extraterrestials. Although the team's goal had been to unlock the secrets of humanity, they soon come face to face with the one thing that threatens to destroy it forever.
---