Queen of the Morning Calm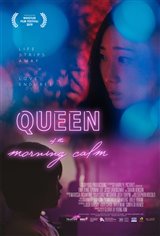 ---
Debra (Tina Jung), 29, works in a strip club to support her 10-year-old daughter, Mona (Eponine Lee). Mona's father, Sarge (Jesse LaVercombe), is a gambler who can't hold onto his money, so Debra is behind on rent and threatened with eviction. She tries to put some money aside, but just when she needs it, it goes missing. 
Tired of her demeaning job, Debra is taking accounting courses in order to get a job as a bookkeeper, and with just one course left to get her diploma, she lands an interview. Meanwhile, Mona misses her mostly absentee father and begins acting out at school and at home, which throws a wrench into Debra's plans to get them a fresh start. 
Canadian Connection : Filmed in Toronto. Several of the cast members are Canadian.
---