Real Women Have Curves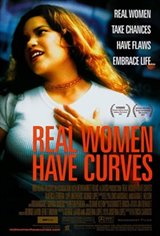 ---
Ana, a first generation Mexican American teenager living in East Los Angeles, has just graduated from high school. Because she is a talented writer, a caring teacher urges her to apply to college.
Ana secretly is excited about the possibility, but her overbearing and hypercritical mother, Carmen, insists that it is time for her to help provide for the family by working in her sister's sewing factory.
When a crisis arises at the factory, it seems as if Ana's fate is unhappily sealed, but her indomitable will to reach beyond sweatshop life eventually leads her to burst, defiant and resplendent, through every restriction on her life.