Sea of Love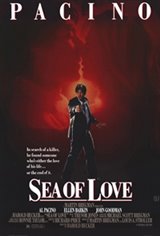 ---
Sea of Love is a sexy, atmospheric thriller, very much in the style of Alfred Hitchcock, with involving characters, steamy love scenes, and surprising plot twists. Frank Keller (Al Pacino), is a lonely, tired, disillusioned, police detective, who has a problem with alcohol.
Frank is investigating a serial killer, whom he believes finds victims by using personal ads in magazines, killing them while playing the old record Sea of Love. In a scene both amusing and touching, Frank and his partner, Sherman (John Goodman) --aided by Frank's father (William Hickey in a lovely cameo) place a personal ad, hoping to lure the killer.
Helen Cruger (Ellen Barkin), a tough, sexy single mother answers the ad and begins an affair with Frank, despite the fact that she is one of the prime suspects in the case. The suspense builds as Frank, though deeply drawn to Helen, becomes more and more suspicious of her.
In a splendidly crafted script from Richard Price, the plot is compelling, with plenty of action, terrific authentic dialogue and superb characterization.
Ellen Barkin gives a marvelous performance as an independent, sensual and intriguing femme fatale; John Goodman is excellent as Sherman, giving a likable, shrewd, and subtly comic performance; and Pacino, in perhaps his best performance since Dog Day Afternoon, plays Frank as a man on the edge, reckless and self-destructive, lost and alone.
Frank falls in love with Helen, in spite of himself, because of his loneliness and need. Pacino's skill in showing the vulnerability and neediness of Frank explains the somewhat implausible actions of his character in continuing their affair despite the mounting evidence against Helen.
Harold Becker directs with great flair, bringing the story believability, without lapsing into false sentimentality.