Someday or One Day (Xiang jian ni)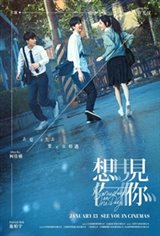 0 votes and 0 Reviews
| | |
| --- | --- |
| Running time: | 1h 47m |
---
After reunion with LI Ziwei, HUANG Yu-Hsuan and LI live a peaceful life in Taiwan. But the calm days are broken when HUANG is informed one day she will be on secondment to Shanghai. Though the couple is parted in discord, HUANG still misses LI deeply, and she even usually dreams of a scene where LI falls from a building.
One day when she wakes up again from the nightmare, she finds all trails of LI are simply vanished, and it looks like she has never been together with LI. Worse, her nightmare is soon proved to be true by Mo Jun-Jie, the closest friend of LI, that LI is actually died from falling a building several years ago.
On her way to find out the truth, HUANG receives a mysterious cassette player. By pressing the play button of the song Last Dance, is HUANG able to change their fate and save LI by traveling through time and space?
| | |
| --- | --- |
| Director: | Tien-Jen Huang |
| Cast: | Greg Han Hsu, Chang Chia-Hui, Kuang-Chen Chang, He Lingyao, Chia-yen Ko, Berry Wen-i Kuo, J.C. Lin, Kim Scar |