Star Trek Generations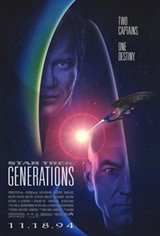 ---
In celebration of the upcoming Oscars, AMC Theatres announced it will host the "AMC Best Picture Showcase" event on Saturday, Feb. 24, at 78 select AMC theatres nationwide.
The five "best picture" nominated films, "Babel," "The Queen," "The Departed," "Letters from Iwo Jima," and "Little Miss Sunshine," will play back-to-back throughout the day in one dedicated auditorium.
Guests who purchase the $30 pass also receive a large popcorn and a large drink, with unlimited free refills on both concession items for the entire day, as well as a collectible 3D pass featuring the five nominated films.