Suits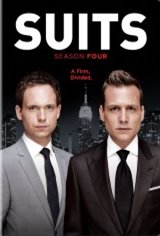 | 4 votes and 1 Reviews
Write a Review
On DVD:
April 28, 2015
Netflix:

December 31, 2019 - Season 9
July 18, 2019 - Season 8
July 12, 2018 - Season 7
July 13, 2017 - Season 6
June 24, 2016 - Season 5
March 7, 2016 - Seasons 1 to 4

TV Premiere Date:
June 23, 2011
Running time:
44m
Genre:
Comedy, Drama, Television
---
Mike Ross (Patrick J. Adams), despite not having a law degree, finds a job working with Harvey Specter (Gabriel Macht), one of New York City's best lawyers and a senior partner at Pearson Hardman, a firm that only hires Harvard graduates.
Harvey's quirky colleague, Louis Litt (Rick Hoffman), is still a junior partner, which irks him, because he believes he's as good, if not better, than Harvey. Meanwhile, he's in charge of the first year associates.
Mike slowly begins to fall for paralegal Rachel (Meghan Markle), who wants to be a lawyer but has test anxiety, so she's never been able to pass the LSATs. Little does she know that prior to stumbling into his job at Pearson Hardman, Mike, who has a photographic memory, made money by illegally taking LSATs for other people in order to have enough money to care for his grandmother.
Canadian Connection : Filmed in Toronto. Many Canadian actors appeared over the course of the nine season run.