Supernova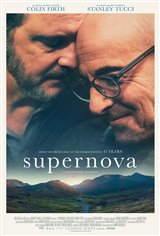 0 votes and 0 Reviews
In theatres:
February 12, 2021 - Limited
1h 33m | Drama, Romance
---
Middle-aged couple Sam (Colin Firth) and Tusker (Stanley Tucci) are traveling across England's picturesque Lake District region in their old RV to visit friends, family and romantic places from their past.
Since Tusker, an author and amateur astronomer, was diagnosed with dementia two years earlier, his memory is quickly fading. For Sam, a semi-retired concert pianist, their time together is the most important thing they have.
---