The Command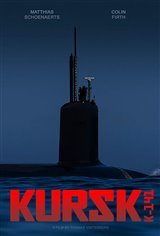 ---
Mikhail Averin (Matthias Schoenaerts) is a naval commanding officer in charge of Compartment 7 of the Russian submarine Kursk. He lives a happy life with his wife, Tanya (Léa Seydoux) and their young son, Misha (Artemiy Spiridonov).

Just two days after embarking on a naval exercise, on August 10, 2000, Kursk — an "unsinkable" submarine twice the of a jumbo jet and longer than two football fields, experiences two internal explosions. The ship immediately hits the bottom of the Arctic waters of the Barents Sea. Although most of the sailors on board died instantly, at least 23 of the 118 sailors survived and secluded themselves in one of the few compartments with air.

Unable to communicate with the outside world, they wait in hope. When the Russian navy connects to the boat, they can hear banging coming from inside, alerting them to the fact that there are survivors. Over the next nine days, the entire world was on tenterhooks, as rescue operations faltered and foreign assistance was refused. The fate of the men aboard hung in the balance in freezing cold temperatures as their oxygen slowly depleted.
This film was originally titled Kursk.
| | |
| --- | --- |
| Director: | Thomas Vinterberg |
| Studio: | STX Entertainment |
| Producer(s): | Ariel Zeitoun |
| Cast: | Matthias Schoenaerts, Léa Seydoux, Colin Firth, Max von Sydow, Peter Simonischek, August Diehl, Magnus Millang, Steven Waddington, Artemiy Spiridonov, Matthias Schweighöfer, Michael Nyqvist |
| Writer(s): | Robert Rodat |
---