The Double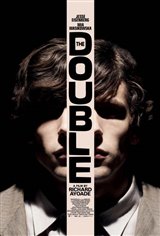 4 votes and 0 Reviews
Release Date:
June 13, 2014 - Montréal,Toronto
DVD: September 9, 2014
1h 33m | Comedy, Drama
---
Simon (Jesse Eisenberg) is a timid man, scratching out an isolated existence in an indifferent world. He is overlooked at work, scorned by his mother, and ignored by the woman of his dreams (Mia Wasikowska). He feels powerless to change any of these things. The arrival of a new co-worker, James (also Jesse Eisenberg), serves to upset the balance. James is both Simon's exact physical double and his opposite—confident, charismatic and good with women. To Simon's horror, James slowly starts taking over his life.
---