The English Game (Netflix)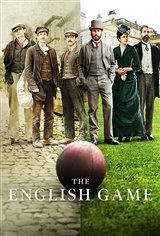 | 2 votes and 1 Reviews
Write a Review
| | |
| --- | --- |
| Netflix: | March 20, 2020 |
| Running time: | 45m |
---
This six-part miniseries by Downton Abbey creator Julian Fellowes tells of the early days of the sport of football (known in North America as soccer).
Previously a sport for amateur players, mostly played by wealthy men with plenty of free time on their hands, it grew to become a sport for the working class as well. However, their teams rarely won because their players worked long hours in factories for small wages. They had little time for practice. That is, until Fergus Suter (Kevin Guthrie) and his best friend Jimmy Love (James Harkness) arrive in England from Scotland, where they were star players, to join the Darwen team.
Paid by James Walsh (Craig Parkinson), the owner of Darwen FC, to play on the team, they also work in his mill because paying players is against the rules according to the wealthy men who formed the Football Association and sat on its board.
Meanwhile, Arthur Kinnaird (Edward Holcroft), the captain and star player of the Old Etonians FC, made up of upper-class men, has problems of his own. He works for his father, who insists on treating him like a child. He also has troubles at home, since his wife Alma (Charlotte Hope) miscarried.
As troubles brew between the upper-class and lower-class players, and Alma discovers solace in helping unwed mothers, Arthur struggles with the right thing to do, in all areas of his life.
Based on a true story.
| | |
| --- | --- |
| Director: | Tim Fywell, Birgitte Stærmose |
| Studio: | Netflix |
| Producer(s): | Julian Fellowes, Rory Aitken, Ben Pugh |
| Cast: | Edward Holcroft, Kevin Guthrie, Charlotte Hope, Craig Parkinson, James Harkness, Gerard Kearns, Henry Lloyd-Hughes |
| Writer(s): | Julian Fellowes, Oliver Cotton, Edward Charlton, Tony Charles |
| Official Site: | netflix.com/title/80244928 |
---