The Favourite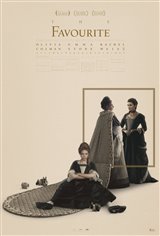 | 236 votes and 98 Reviews
Write a Review
Release Date:
November 30, 2018 - Toronto
December 7, 2018 - Montréal,Vancouver
DVD/Blu-ray: March 5, 2019
Digital: February 12, 2019
2h 0m | Drama
---
In the early 18th century, with England and France at war, a frail Queen Anne (
Olivia Colman
) occupies the throne as her close friend Lady Sarah Churchill (
Rachel Weisz
) governs the country in her stead, while tending to Anne's ill health and mercurial temper.
When new servant Abigail Masham (Emma Stone) arrives, her charm endears her to Sarah. Sarah takes Abigail, who has aristrocratic roots, under her wing. This gives Abigail the hope that she'll be able to regain her social position if things go well. As the politics of war take up Sarah's time and concentration, Abigail steps in as the Queen's companion. Their burgeoning friendship gives her a chance to fulfil her ambitions.
---