The Frighteners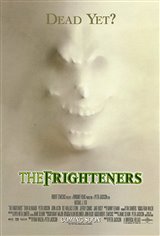 ---
Charlatan Frank Bannister (Michael J. Fox) has genuine psychic powers, but he doesn't use them to help people.
Rather, he generates cases for his supernatural private-eye firm by harassing a group of hapless ghosts (including a dearly departed Wild West outlaw and an undead judge played by John Astin) into staging hauntings and poltergeists in the homes of likely marks.
Bannister's world turns on its head when he starts noticing real hauntings around town -- ghostly assassinations that seem to be tied to the execution 20 years earlier of a brutal serial killer.
Lucy Lunskey (Trini Alvarado), the wife of one unlucky victim, teams up with Bannister to get to the bottom of the killings and find out what shut-in Patricia Bradley (Dee Wallace Stone) and her witchy mother (Julia McCarthy) have to do with the sinister spree.