The Hardy Boys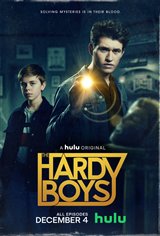 0 votes and 0 Reviews
| | |
| --- | --- |
| Netflix: | September 1, 2021 - Season 1 |
| TV Premiere Date: | April 4, 2022 - Season 2 / December 4, 2020 - Season 1 - YTV |
| Disney+: | May 11, 2022 - Season 2 / December 4, 2020 - Season 1 - YTV |
| Running time: | 45m |
---
When their mother is killed in a car accident, Frank (Rohan Campbell) and Joe Hardy (Alexander Elliot) are sent to Bridgeport for the summer to live with their aunt Trudy (Bea Santos) while their father tracks down a missing person in Europe.
Living in the town where both of their parents grew up, Frank and Joe run into a number of people who knew their mother — and are vague about her and the fact that she was in Bridgeport on the day that she died. They begin to investigate and discover their mother was actually murdered — and their grandmother may be involved.
Based on The Hardy Boys book series by Franklin W. Dixon.
| | |
| --- | --- |
| Director: | Casey Walker, James Genn, Jason Stone, Jeff Renfroe, Melanie Orr, Melanie Scrofano |
| Studio: | YTV, Netflix |
| Cast: | Rohan Campbell, Alexander Elliot, Bea Santos, Keana Lyn, Adam Swain, Riley O'Donnell, Atticus Mitchell, Cristian Perri, Jennifer Hsiung, Linda Thorson, James Tupper, Anthony Lemke |
| Writer(s): | Steve Cochrane |
---