The Healer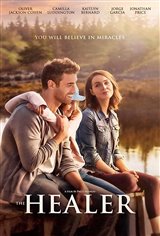 ---
Alec Bailey (Oliver Jackson-Cohen) works as an electrical repairman for a company called The Healer, but his gambling and womanizing have gotten him into trouble. Enforcers want their money and his life is in danger if he doesn't pay his debts.

He's invited to lunch by an uncle (Jonathan Pryce) who claims to be his deceased mother's brother. The man offers to pay off Alec's debts if he'll move from his native England to go live in Nova Scotia to live for one year. With no other options available, Alec reluctantly agrees to go.

In Lunenburg, he meets an attractive local veterinarian named Cecilia (Camilla Luddington), who places an ad in the paper for him, calling him The Healer. The ad, which was supposed to say he can fix anything, is misprinted to read he can fix "anyone." Soon, he has people coming to him, hoping to be cured of their illnesses. Skeptical, he doesn't want anything to do with this, even when he discovers he may actually have a strange power.
Canadian Connection : Filmed in Lunenburg and Halifax, Nova Scotia, as well as other parts of Atlantic Canada. Several cast members are Canadian.
---