The Lie (Amazon Prime Video)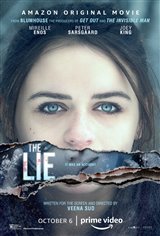 | 2 votes and 1 Reviews
Write a Review
| | |
| --- | --- |
| Amazon Prime Video: | October 6, 2020 |
| Running time: | 1h 35m |
---
While driving his 15-year-old daughter Kayla (Joey King) and her best friend Brittany (Devery Jacobs) to a weekend dance camp, Jay (Peter Sarsgaard) pulls over to the side of the road when the girls ask for a quick bathroom break. They go deeper into the snowy woods than needed, and when Jay hears screams, he finds Kayla alone on a bridge, crying.
She admits that she pushed Brittany, who then fell off the bridge into the icy river. Later, Brittany's father comes looking for her when she doesn't show up at camp, but Kayla's mother Rebecca (Mireille Enos) lies, saying Kayla didn't go because she was sick. Rebecca and Jay worry that Kayla will get sent to prison for second degree murder, so they cover up her crime with a series of lies that turn into a complicated web of deception.
Canadian Connection : Filmed in Ontario. Director Veena Sud was born in Toronto. Several cast members are Canadian.
---