The Mighty Ducks: Game Changers (Disney+)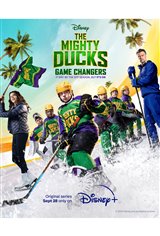 0 votes and 0 Reviews
| | |
| --- | --- |
| Disney+: | September 28, 2022 - Season 2 / March 26, 2021 - Season 1 |
---
In this series based on the hit movies of the 1990s, the Mighty Ducks have evolved from scrappy underdogs to become an ultra-competitive, powerhouse youth hockey team in Minneapolis. Evan Morrow (Brandon Noon), a 12-year old boy, loves the game and is proud to be a member of the team, but the coach tells him he's not good enough and cuts him from the team. The coach even tells him to not even bother pursuing hockey anymore.
His mother Alex (Lauren Graham) is crushed by the news, and wants to give her son, and other underdogs like him, the opportunity to play. Gordon Bombay (Emilio Estevez), the original coach of The Mighty Ducks, joins Alex in creating a team to help Evan and his friends learn and play the sport they love.
Canadian Connection : Filmed in Vancouver, British Columbia.
| | |
| --- | --- |
| Director: | James Griffiths, Jay Karas, Michael Spiller |
| Studio: | Disney+ |
| Producer(s): | Arielle Boisvert, Damir Konjicija, Dario Konjicija, Shawn Williamson |
| Cast: | Emilio Estevez, Lauren Graham, Brady Noon, Maxwell Simkins, Swayam Bhatia, Luke Islam, Kiefer O'Reilly, Taegen Burns, Bella Higginbotham, De'Jon Watts |
| Writer(s): | Steven Brill, Josh Goldsmith, Cathy Yuspa |
---