The Mist (Netflix)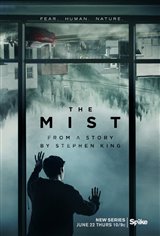 ---
When a soldier (Okezie Morro) warns the police that there's something in the mist that's rolling towards a small town, he's thrown in jail. As the all-enveloping mist approaches, bodies begin piling up. The murders are at first attributed to a bear gone rogue, but the townspeople soon realize that the strange creatures appearing in the mist are much deadlier than a bear.
The townspeople stay inside and lock their doors once they realize that anyone who goes out into the mist winds up dead — everyone, that is, except for Alex Cunningham (Gus Birney).
Based on a story by Stephen King.
  Canadian Connection: Filmed in Nova Scotia. Several cast members are Canadian. 
| | |
| --- | --- |
| Director: | David Boyd, Guy Ferland, Nick Murphy, T.J. Scott |
| Studio: | Spike TV |
| Producer(s): | Guy J. Louthan, Michael Mahoney, Peter Macmanus |
| Cast: | Morgan Spector, Alyssa Sutherland, Gus Birney, Danica Curcic, Luke Cosgrove, Okezie Morro, Frances Conroy, Russell Posner, Darren Pettie, Holly Deveaux |
| Writer(s): | Christian Torpe, Amanda Segel, Peter Biegen, Noah Griffith, Peter Macmanus, Daniel Stewart, Daniel Talbott, Andrew Wilder |
---