The Moth Diaries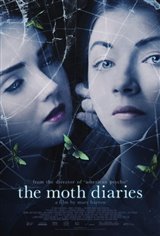 ---
A 16-year-old student (Sarah Bolger) at an exclusive girls' boarding school jots down her most personal thoughts and feelings in a diary. She begins to record the comings and goings of her roommate, Lucy Blake (Sarah Gadon), who has just made friends with a strange new boarder, Ernessa (Lily Cole).
With her pale skin and hypnotic eyes, Ernessa gives off a mysterious, moody aura. Rumors, suspicions and secrets involving the new student spread through the school as a series of frightening disasters occur.
Canadian Connection: Filmed in Montreal, Quebec.
---